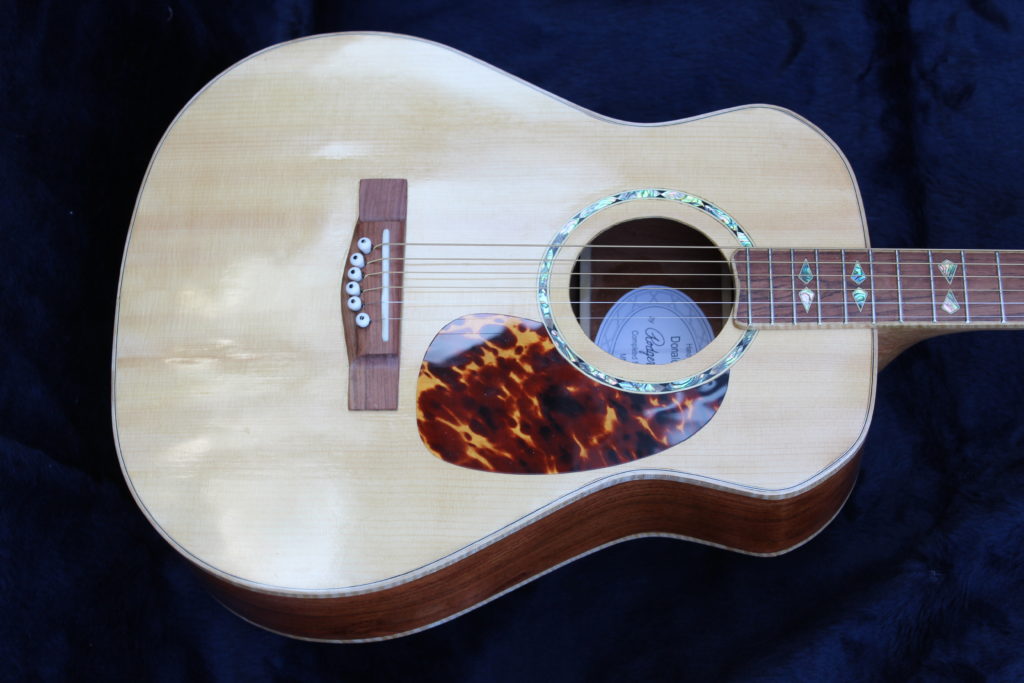 I've been a student of the craft since the turn of the century.
I started playing guitar in 1964, and played in several bands in the late 60's and early 70's. I'd been playing for 35 years when I first considered building a guitar, so I thought I knew a lot about guitars. I'd been doing my own setups for years, and all my guitars played really good.
I had always wanted a Flying V, but they were so expensive. I thought I could probably get an inexpensive guitar with a bolt-on neck, salvage everything except the body, and I could build a Vee body to replace it. I had done some woodworking, so I had confidence that I could build a body for a bolt-on neck. I got an Epiphone version of a telecaster off eBay, along with a bookmatched curly maple top and a bookmatched quilted maple back. I did a little research, and discovered Kathy Matsushita's website, the Musical Instrument Makers Forum, and Cumpiano and Natelson.  With this new wealth of information, I decided to try to make a neck, my older son wanted an electric guitar, and everyone said making the neck was much more intimidating than difficult, so I decided to try to build a neck. I bought a preslotted fingerboard from StewMac, and built a Fender style bolt on neck. I was so pleased with the way in came out that I used it on the Vee. I built the LP for my older son, and started an acoustic for my younger son.
At that time, money was tight and there was very little for tools or materials. A local musician was looking for someone to do some repairs, so I responded to his advertisement. I wasn't really qualified as a repairman(and charged accordingly), but I felt confident that I could acomplish the repair to his satisfaction. He brought in a 1936 Kalamazoo acoustic that had a hole in the side of the lower bout, like it had been banged into the corner of a table. Most of the wood was still there, and he didn't care if the repair showed, he just wanted it stabilized. I really liked that little guitar, so I took all the measurements I needed to draw plans. I worked the break back together, glued a patch on the inside, and touched up the finish with shellac. It came out better than he expected, and I did quite a bit of work for him, both repairs and building complete guitars. I built the cereal box guitars, a Mosrite copy, and an acoustic dred for him. That provided a modest amount of repair experience and  funds for tools and materials. I decided that I wasn't good enough at repairs at the time to work on anything except inexpensive guitars, so I quit doing repairs and concentrated on building.
I built my first acoustic using the instructions in Guitarmaking: Tradition and Technology by Cumpino and Natelson and plans that I drew from measurements of my 1956 Gibson J-50, my Dred Model. After two or three, I switched over to using an outside mold, primarily due to the influence of Allan Carruth and Mario Proulx on the Musical Instrument Makers Forum. Many thanks to all my early influences on the MIMF.
I mill most of the wood I use, except for the top wood, which I get from several sources, depending on the species. I use a variety of power tools for initial cutting and thicknessing, but final fitting and assembly is done by hand, using mostly hand tools. I do all the work myself, including the inlay and finishing. I buy truss rods, tuners, bridgepins, and an endpin, but everything else is fabricated from raw lumber and shell in my shop.
Shortly after I first started building, I developed my technique of constructing neck blanks. Broken headstocks seemed to be pretty common, which I percieved to be a design flaw. I decided to develop a stronger headstock joint to solve this problem. I now know that it is a solution to a problem that didn't really exist, any type of lamination or scarf joint is plenty strong enough. Broken headstocks are usually due to the headstock angle being cut from a single solid neck blank. My design is a hybrid of scarf joint and lamination, with the center laminate being continuous and the outside laminations having a scarf joint. There are several other advantages besides strength. A neck blank can be assembled from pieces cut from a 24" 1x6 with very little waste,it doesn't require quartersawn wood, and it's an elegant bit of joinery. I've also started using an open headstock of similiar design.